Massachusetts Meals on Wheels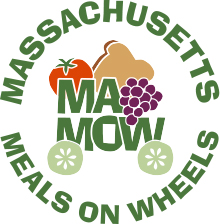 The assignment was to design a logo representing Massachusetts Meals on Wheels as an independent member interest group consisting of a number of individual organizations throughout Massachusetts. The goal was to appeal to an audience of elders, caregivers, and organization members as well as to potential donors and volunteers for the program. With a modern and updated look, the logo expresses a sense of an active, friendly, warm, and caring organization devoted to the mission.
To accommodate the likely need to reproduce the logo in a single color in addition to its full color version, the elements of the image are designed to be clearly identifiable even when only a single color is available.
We have two different lockups for the logo:  one is designed to fit in a space with a horizontal aspect ratio and another is designed to serve in a context where a square aspect ratio is desired.